Digital Transformation Solutions
When you want to transform your existing IT while deploying digital solutions at scale, you can confidently turn to Simelabs to help you thrive in the new digital world. From connected services to commerce platforms, we provide you with the tools you need to emerge as a leader in your industry. We believe that when applied with your customers in mind, technology creates value, builds relationships, and grows revenue
To Deliver high quality Solutions We use
The Simelabs Way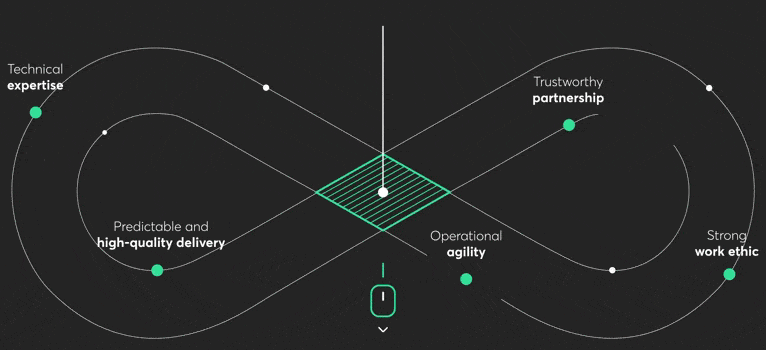 What is The Simelabs Way?
The Simelabs Way is our unique approach to delivering the best software for our clients which we have evolved over the years. It is our own distinct way of working, a combination of methods, tools and behaviours which helps our clients achieve great results through our partnership. The Simelabs Way describes what you as a client can expect from us in terms of the way we work and is based on 5 pillars.
Technical expertise

With extensive experience in building and delivering technology solutions for mid-sized and large businesses, you'll be working with professionals who are technically and operationally expert at delivering robust, quality and sustainable software. From that experience comes our culture of constant improvement and the adaptations from lessons learned the hard way to drive results that are right first time, every time.

This expertise translates into competitive advantage for your business delivered fast.

Predictable and high-quality delivery

Our mature processes and solid experience guarantee solutions which better reflect your business requirements and are a close fit to the market. Our approach to high quality software right first time means you can have confidence we will deliver and you will be protected from unnecessary risk and reputational damage.

This gives you peace of mind allowing you to make commitments to your stakeholders and take more dynamic business decisions.

Trustworthy partnership

We see our clients as partners. This means open communication and visibility of problems as soon as they arise. Our experts are proactive and not afraid to suggest improvements and challenge you, with your best interest in mind. You can rely on their knowledge and experience – your very own team that feels like it's right next door.

This approach is a way of minimising risks while maximising opportunities and achieving tangible results from projects we run together.

Operational agility

Our ways of working foster real agility at scale. We wrap ourselves around your requirements and ways of working to achieve great working relationships while responding to your favourite methodology, the size of your team, and your choice of engagement and pricing models.

This allows you to scale and flex as your business requirements change. Our goal is to adjust to your business, not the other way around.

Strong work ethic

We value honesty, integrity and fairness – with clients and colleagues. This, combined with our passion for software development and a supportive culture of open feedback, means a work ethic you can rely on. That's why our clients say working with us is just like having a partner next door.

All this to give you peace of mind to feel safe and confident about your project.
Change, Transform, Innovate
Our belief in creating tangible value for our customers is what we think is different about Simelabs. Our attention to detail and quality is unmatched in the industry. We're not just a resource provider. We value our customers' success as much as our own – sharing development risk so that they can be bold in their adoption of new technologies. Simelabs has the industry knowledge and experience businesses need to grow and lead in their markets. Here's just a sample of the industries we support.
How we cooperate
To meet your unique requirements, we offer three distinct engagement models. Choose the ideal way to structure our partnership.
Engineering Team

We take on a wide range of responsibility by designing and co-creating a product with you. We manage the entire product development life cycle from planning to implementation to support and maintenance.

Smart Team

If you need help with just one of the services such as design, development, QA or DevOps, we can easily provide you with a team of specialists. With this type of collaboration, work processes and delivery are fully managed by us.

Extended team

We provide you with a team (or one specialist) who has the expertise you're looking for, and we take responsibility for the performance of these individuals or teams. You have full control of the systems development life cycle (SDLC).
Distributed responsibilities.
One common goal.
Each member of the Simelabs team has their own responsibilities, but we all work toward a common goal: providing you with software services and solution that is the most beneficial for your businesses.
Customer
Budget
Backlog
Quality requests
Domain knowledge
Business development
Product
Design
Architecture
Maintenance
Infrastucture
Development expertise
Company
Continuous Software Development Life Cycle
At Simelabs, we believe in Continuous software development. Rather than improving software in one large batch, updates are made continuously, piece-by-piece, enabling software code to be delivered to customers as soon as it is completed and tested.
Continuous Exploration

---

A process that drives innovation and fosters alignment on what should be built by continually exploring the market and customer needs, and defining a Vision, Roadmap, set of features and services for a solution that addresses those needs

Continuous Integration

---

The practice of integrating changes from different developers in the team into a mainline as early as possible, in best cases several times a day. This makes your code dependable

Continuous Delivery

---

We keep the codebase deployable at any point. Beyond making sure the application passes automated tests it has to have all the configuration necessary to push it into production. Teams then do push changes that pass the automated tests into a test or production environment

Continuous Deployment

---

We use the strategy of continuous deployment for software releases wherein any code commit that passes the automated testing phase is automatically released into the production environment, making changes that are visible to the software's users

Continuous Feedback

---

Infrastructure, application & database are automatically scaled up & down based on demand. Feedback detects abnormal behaviour & switches over automatically before critical failure occurs

Continuous Learning

---

Continuous learning will only strengthen any DevOps environment you implement. Expected and actual customer impact is evaluated, the learnings trigger a new hypothesis and start the next code experiment
Our philosophy in product design & development
We believe in creating digital customer experiences that people love and clients are proud of calling their own.
Discovery

As the old saying goes: If you have four hours to chop down a tree, spend the first three hours sharpening your axe. The same goes for design. Before you get started with any project, you need to get the basics down firstResearch about everything that we are curious about the users and the case. The final goal is putting ourselves in user's shoes and understanding their problems and what they need.

Ideation

From the problem worth solving, list down the negative feelings when the problems are unsolved (left) , and the positive feelings when the problem solved (right). Based on the feelings, think about the solution for that.

Create

Now, it's time to actually build out your design. One of the most important things you can create at this stage is the wireframe. It's a low fidelity version of what your product will eventually look like. This is an iterative process. That means you won't get it all done in the first go. You'll have to design, redesign, scrap it, and design it all again. Hyperventilation and overconsumption of coffee is completely natural at this stage.

Launch

After designing and redesigning until you go cross eyed, you're going to reach a point where all your assets are ready to ship. That means it's time to implement; pass everything to the development team who will create a high fidelity version of the user interface.

Iterate

Once your product launches, it's time for another round of analysis. Instead of looking at the results of your research, though, you'll be taking a look at your overall final product.By thoroughly analyzing the product and the UX process, you'll be able to get more out of the experience than just a product—you also gain invaluable knowledge you can leverage for the future.